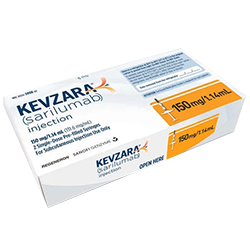 Medicine Name: Kevzara
Generic Name: Sarilumab
Dosage Form & Strength: Injection: 150 mg/1.14 mL or 200 mg/1.14 mL solution in a single-dose pre-filled syringe 
Manufactured By: Sanofi and Regeneron Pharmaceuticals, Inc.
Medical Uses
Warning & Precautions
Documentation & Availability
Sourcing & Delivery
FAQs
Medical Uses
Kevzara is an injectable prescription medicine called an interleukin-6 (IL-6) receptor antagonist used for treatment of adult patients with moderately to severely active rheumatoid arthritis (RA) who have had not adequate response or not tolerance to single or multiple disease-modifying antirheumatic drugs (DMARDs).
Recommended Dosage: Kevzara for rheumatoid arthritis (RA) may be used as monotherapy or in combination with methotrexate (MTX) or other conventional DMARDs. 
The recommended dosage is 200 mg once every 2 weeks administered as a subcutaneous injection. Dosage can be reduced to 150 mg once every 2 weeks for management of thrombocytopenia, neutropenia and elevated liver enzymes. 
Initiation of Kevzara therapy is not recommended in those with platelet count less than 150,000 per mm3, absolute neutrophil count (ANC) less than 2000 per mm3, or who have ALT/AST beyond 1.5 times the ULN (Upper Limit of Normal). 
Prior to initiating this therapy, patients must be tested for latent tuberculosis (TB). If positive, consider treating TB prior to the use of Kevzara therapy. 
Avoid using Kevzara (Sarilumab) with biological DMARDs due to the possibility of increased immunosuppression and increased probability of infection. The concurrent use of this medication with biological DMARDs such as IL-1R antagonists, TNF antagonists, anti-CD20 monoclonal antibodies and selective co-stimulation modulators has not been assessed. Avoid the use of sarilumab injection in patients with active infections. 
Warning & Precautions
Documentation & Availability
Sourcing & Delivery
FAQs
If you have any questions or need any help, contact our Patient Support Team. We will get in touch with you within 24 hours from Monday to Friday between 9:00 and 10:00 CET.
All Trademarks and Brands that appear on the website belong to their respective owners and indianpharmanetwork does not lay any claim on them we only provide Information.