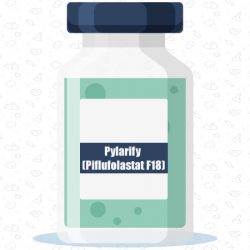 Pylarify (Piflufolastat F18)
Medicine Name: Pylarify
Generic Name: Piflufolastat F18
Dosage Form & Strength: Injection: a multiple-dose vial containing 37 MBq/mL to 2,960 MBq/mL (1 mCi/mL to 80 mCi/mL)
Manufactured By: Progenics Pharmaceuticals, Inc.
Medical uses
Warning & Precautions
Documentation & Availability
Sourcing & Delivery
FAQ
Medical uses
Medical Uses: Pylarify is a radioactive diagnostic agent used for positron emission tomography (PET) of prostate-specific membrane antigen (PSMA) positive lesions in males with prostate cancer:
with suspected metastasis who are recipients for initial definitive therapy. 
with suspected recurrence based on elevated serum prostatespecific antigen (PSA) level
Recommended Dosage: Pylarify is a radioactive medication. Only authorized individuals qualified by training and experience should receive,use and administer this medicinal product. Handle this drug with appropriate safety measures to scale down radiation exposure during administration. Use waterproof gloves and and useful radiation shielding including syringe shields, when preparing and handling this injection.
The recommended amount of radioactivity to be used for PET imaging is 333 MBq (9 mCi) with an acceptable range of 296 to 370 MBq (8 to 10 mCi) given as a single bolus intravenous injection. Initiate imaging around 60 minutes after the administration of Pylarify. Patient should void promptly before starting imaging. Start image acquisition from mid-thigh and proceed to the skull vertex. 
Warning & Precautions
Documentation & Availability
Sourcing & Delivery
FAQ
If you have any questions or need any help, contact our Patient Support Team. We will get in touch with you within 24 hours from Monday to Friday between 9:00 and 10:00 CET.
All Trademarks and Brands that appear on the website belong to their respective owners and indianpharmanetwork does not lay any claim on them we only provide Information.