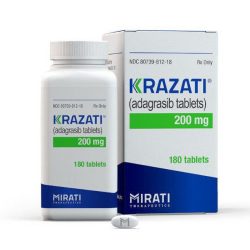 Medicine Name:  Krazati 
Generic name: Adagrasib
Dosage Forms and Strengths: It is available as Tablets: 200 mg
Manufactured by: Mirati Therapeutics, Inc
Medical uses
Warning & Precautions
Documentation & Availability
Sourcing & Delivery
FAQ
Medical uses
Indications and Usage:
Krazati is a breakthrough inhibitor of the RAS GTPase family designed to provide hope and effective treatment for adult patients battling KRAS G12C-mutated locally advanced or metastatic non-small cell lung cancer (NSCLC). This treatment is indicated for patients who have previously undergone at least one systemic therapy, as confirmed by an FDA-approved test. It's important to note that this indication has been granted accelerated approval based on objective response rate (ORR) and duration of response (DOR). Further confirmation of clinical benefit may be required in confirmatory trials.
Dosage and Administration:
Recommended Dosage: 600 mg orally twice daily.
Tablets are to be swallowed whole, with or without food.
Contraindications:
Warning & Precautions
Documentation & Availability
Sourcing & Delivery
FAQ
If you have any questions or need any help, contact our Patient Support Team. We will get in touch with you within 24 hours from Monday to Friday between 9:00 and 10:00 CET.
All Trademarks and Brands that appear on the website belong to their respective owners and indianpharmanetwork does not lay any claim on them we only provide Information.