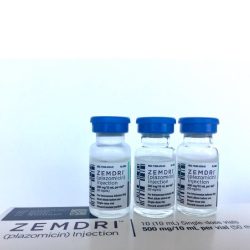 Medicine Name: Zemdri
Generic Name: Plazomicin
Dosage Form & Strength: Injection 500 mg/10 mL (50 mg/mL)
Manufactured By: Achaogen, Inc
Medical uses
Warning & Precautions
Documentation & Availability
Sourcing & Delivery
FAQ
Medical uses
Zemdri injection is an aminoglycoside antibacterial used in patients aged 18 years or older for the treatment of complicated urinary tract infections (cUTI), including pyelonephritis caused by the following susceptible microorganism(s): Klebsiella pneumoniae, Escherichia coli, Enterobacter cloacae and Proteus mirabilis. 
Recommended Dosage: The recommended dosage regimen of Zemdri injection is 15 mg/kg given or administered every 24 hours by intravenous (IV) infusion over 30 minutes in patients aged 18 years or older and with CLcr (creatinine clearance) ≥ 90 mL/min. Time-span of therapy should be guided as per severity of infection as well as patient's clinical status for up to 1-week (7 days). Throughout the therapy, dosage adjustments may be needed depending on the change in renal function.
Warning & Precautions
Documentation & Availability
Sourcing & Delivery
FAQ
If you have any questions or need any help, contact our Patient Support Team. We will get in touch with you within 24 hours from Monday to Friday between 9:00 and 10:00 CET.
All Trademarks and Brands that appear on the website belong to their respective owners and indianpharmanetwork does not lay any claim on them we only provide Information.