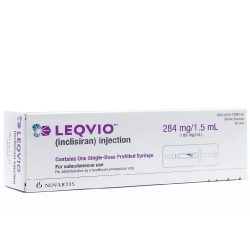 Medicine Name: Leqvio
Generic Name: Inclisiran
Dosage Form & Strength: Injection: 284 mg/1.5 mL (189 mg/mL) in a single-dose prefilled syringe
Manufactured By: Novartis
Medical uses
Warning & Precautions
Documentation & Availability
Sourcing & Delivery
FAQ
Medical uses
Leqvio (inclisiran) is a siRNA directed to PCSK9 mRNA used to decrease cholesterol in the blood. It is used in adult individuals with primary hypercholesterolaemia or mixed dyslipidaemia (a kind of condition that causes high levels of fats, including cholesterol). A low-fat diet must be considered with Leqvio. It is used in conjunction with a statin (a kind of cholesterol-lowering drug) when the maximum dose of the statin does not decrease cholesterol levels enough. It can also be used together with other cholesterol-reducing drugs in individuals who are not able to take a cholesterol-lowering drug or statin.
Recommended Dosage: The recommended dose of Leqvio injection is 284 mg given by injection under the skin (subcutaneous injection). The very next dose of Leqvio is given after three months, followed by rest doses every six months. Prior to starting therapy with Leqvio patients should be on a diet to reduce cholesterol levels and it is likely that they will be taking a cholesterol-lowering drug. Patients should stay on this cholesterol-reducing diet and keep taking the statin throughout the treatment with Leqvio.
Inject dosage subcutaneously into the upper arm, abdomen, or thigh. Avoid injecting in areas of active skin disease or injury, such as inflammation, skin rashes, skin infections, or sunburns.
In case a proposed dose of Leqvio is missed or skipped under 3 months, administer Leqvio injection and maintain dosing as per the patient's standard dosing schedule. In case a proposed dose is missed beyond three months, reinitiate with a new dosing schedule – administer the dosage of Leqvio initially, again at three months, and then every six months.
Warning & Precautions
Documentation & Availability
Sourcing & Delivery
FAQ
If you have any questions or need any help, contact our Patient Support Team. We will get in touch with you within 24 hours from Monday to Friday between 9:00 and 10:00 CET.
All Trademarks and Brands that appear on the website belong to their respective owners and indianpharmanetwork does not lay any claim on them we only provide Information.