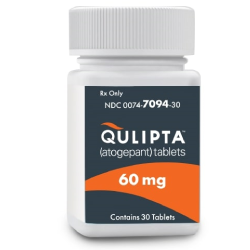 Medicine Name: Qulipta
Generic Name: Atogepant
Dosage Form & Strength: Tablets: 10 mg/30 mg/60 mg
Manufactured By: AbbVie Inc.
Medical uses
Warning & Precautions
Documentation & Availability
Sourcing & Delivery
FAQ
Medical uses
Qulipta contains the active drug Atogepant. It is a calcitonin gene-related peptide receptor antagonist used for the preventive treatment of episodic migraine in adults.
Recommended Dosage: The recommended dosage is 10 mg, 30 mg, or 60 mg taken orally (by mouth) once daily with or without food. The maximum recommended daily dose of Qulipta is 60 mg. Swallow pills whole without chewing or crushing. Take Qulipta tablets exactly as your health specialist tell you to take them.
For those with Severe Renal Impairment or End-stage Renal Disease, the proposed dose is 10 mg taken orally once daily.
If you miss/skip a dose of Qulipta (atogepant tablets), try to take it quickly as you remember. But if it's near/almost time for your next Qulipta dose, skip the missed dose. Take your next dose at about the regularly scheduled time. And do not take an additional dose to make for a skipped/missed dose.
Warning & Precautions
Documentation & Availability
Sourcing & Delivery
FAQ
If you have any questions or need any help, contact our Patient Support Team. We will get in touch with you within 24 hours from Monday to Friday between 9:00 and 10:00 CET.
All Trademarks and Brands that appear on the website belong to their respective owners and indianpharmanetwork does not lay any claim on them we only provide Information.