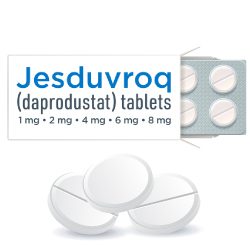 Medicine Name: Jesduvroq
Generic Name: Daprodustat
Dosage Form & Strength: Tablets: 1 mg, 2 mg, 4 mg, 6 mg, and 8 mg
Manufactured By: GlaxoSmithKline
Medical uses
Warning & Precautions
Documentation & Availability
Sourcing & Delivery
FAQ
Medical uses
Jesduvroq (daprodustat) is a hypoxia-inducible factor prolyl hydroxylase (HIF PH) inhibitor used for the treatment of anemia that is caused by chronic kidney disease (CKD) in adults who have been on dialysis for minimum 4 months.
Limitations of Use: Not proven to improve quality of life (QoL), fatigue (tiredness), or patient well-being. Not indicated for use as a substitute for transfusion in those requiring emergency correction of anemia and in those not on dialysis.
Recommended Dosage: Jesduvroq tablets can be taken with or without a meal and without regard to the concomitant use of iron or phosphate binders. Tablets should be swallowed whole. Jesduvroq should not be chewed, cut, or crushed. It can be administered without regard to the timing or nature of dialysis. Individualize the dosing of Jesduvroq and use the lowest dose sufficient to reduce the need for red blood cell transfusions. Do not target a hemoglobin beyond 11 g/dL.
If any dose is missed, it should be taken as quickly as possible, unless it is the same day as the very next dose. In this scenario, skip the missed dose of Jesduvroq, and take the next dose at about the usual time. Do not take two doses to make-up for a missed dose.
Warning & Precautions
Documentation & Availability
Sourcing & Delivery
FAQ
If you have any questions or need any help, contact our Patient Support Team. We will get in touch with you within 24 hours from Monday to Friday between 9:00 and 10:00 CET.
All Trademarks and Brands that appear on the website belong to their respective owners and indianpharmanetwork does not lay any claim on them we only provide Information.