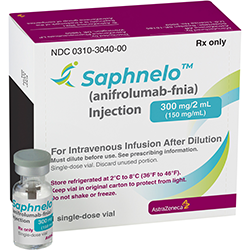 Saphnelo (anifrolumab-fnia)
M

edicine Name:

Saphnelo

Generic Name:

Anifrolumab-fnia

Dosage Form & Strength: Injection: 300 mg/2 mL (150 mg/mL) in a single-dose vial
Manufactured By: AstraZeneca
Medical uses
Warning & Precautions
Documentation & Availability
Sourcing & Delivery
FAQ
Medical uses
Saphnelo (anifrolumab-fnia) is a type I interferon (IFN) receptor antagonist used to treat adults with moderate to severe systemic lupus erythematosus (SLE), who are taking other lupus drugs, regardless of race or ethnicity standard therapy.
Recommended Dosage: Saphnelo is supplied as a single-dose vial. It must be diluted before intravenous administration. The recommended dosage regimen of Saphnelo injection is 300 mg, administered as an intravenous infusion over a 30-minute time span, every 4 weeks.
If a planned/scheduled infusion of Saphnelo is missed, administer it as promptly as possible. A minimum interval of 14 days between infusions should be maintained.
Warning & Precautions
Documentation & Availability
Sourcing & Delivery
FAQ
If you have any questions or need any help, contact our Patient Support Team. We will get in touch with you within 24 hours from Monday to Friday between 9:00 and 10:00 CET.
Email
info@indianpharmanetwork.in
All Trademarks and Brands that appear on the website belong to their respective owners and indianpharmanetwork does not lay any claim on them we only provide Information.