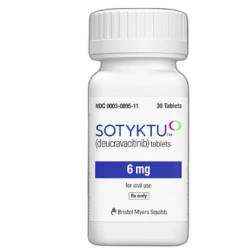 Sotyktu (Deucravacitinib)

Medicine Name: Sotyktu
Generic Name: Deucravacitinib
Dosage Form & Strength: Tablets: 6 mg
Manufactured By: Bristol Myers Squibb
Medical uses
Warning & Precautions
Documentation & Availability
Sourcing & Delivery
FAQ
Medical uses
Sotyktu (deucravacitinib) is a tyrosine kinase 2 (TYK2) inhibitor used for the treatment of adult individuals with moderate-to-severe plaque psoriasis who are candidates for systemic therapy or phototherapy.
Limitations of Use: This medicinal product is not recommended for use in conjunction with other potent immunosuppressants.
Recommended Dosage: Evaluate individuals for active as well as latent tuberculosis (TB) infection before starting Sotyktu treatment. If positive, initiate treatment for tuberculosis prior to the use of this therapy. Update immunizations as per current immunization guidelines.
The recommended dosage of Sotyktu tablet is 6 mg taken orally once daily, with or without food. Do not chew, crush, or cut the pills. This medicinal product is not recommended for those with severe hepatic impairment (Child-Pugh C).
Warning & Precautions
Documentation & Availability
Sourcing & Delivery
FAQ
If you have any questions or need any help, contact our Patient Support Team. We will get in touch with you within 24 hours from Monday to Friday between 9:00 and 10:00 CET.
All Trademarks and Brands that appear on the website belong to their respective owners and indianpharmanetwork does not lay any claim on them we only provide Information.