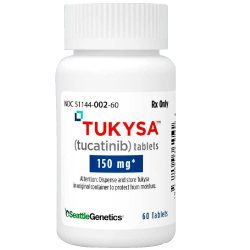 Medicine Name: Tukysa
Generic Name: Tucatinib
Dosage Form & Strength: Tablets: 50mg/150mg
Manufactured By: Seattle Genetics, Inc.
Medical uses
Warning & Precautions
Documentation & Availability
Sourcing & Delivery
FAQ
Medical uses
Tukysa is a kinase inhibitor, used along with trastuzumab and capecitabine for treatment of adult patients with advanced unresectable or metastatic HER2 +Ve breast cancer, including patients with brain metastases, who have received single or multiple prior anti-HER2-based regimens in the metastatic setting.
Recommended Dosage: The recommended dosage is 300 mg taken orally twice daily along with trastuzumab and capecitabine until disease progression or unacceptable toxicity. Patients should swallow tucatinib tablets whole without chewing, crushing, or splitting. Patients should not ingest the tablets in case it is broken, cracked, or not otherwise intact. Tablets should be taken approximately 12 hours apart and persistently each day with or without a meal.
When given along with Tucatinib, the recommended dosage of capecitabine is 1000 mg/m2 orally twice daily taken within 30 minutes after taking a meal. Tucatinib and capecitabine typically can be taken around the same time.
Warning & Precautions
Documentation & Availability
Sourcing & Delivery
FAQ
If you have any questions or need any help, contact our Patient Support Team. We will get in touch with you within 24 hours from Monday to Friday between 9:00 and 10:00 CET.
All Trademarks and Brands that appear on the website belong to their respective owners and indianpharmanetwork does not lay any claim on them we only provide Information.