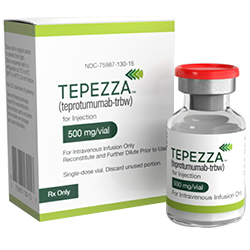 TEPEZZA (teprotumumab-trbw)
Medicine Name: Tepezza
Generic Name: Teprotumumab-trbw
Dosage Form & Strength: Injection: 500 mg lyophilized powder in a single-dose vial
Manufactured By: Horizon Therapeutics
Medical uses
Warning & Precautions
Documentation & Availability
Sourcing & Delivery
FAQ
Medical uses
Tepezza is an insulin-like growth factor-1 receptor inhibitor used for the treatment of Thyroid Eye Disease (TED) also known as Graves' Orbitopathy.
Recommended Dosage: The recommended dose of Tepezza is an intravenous infusion of 10 mg per kg for the initial dose followed by an intravenous infusion of 20 mg per kg every 3 weeks for 7 additional infusions. Do not administer tepezza injection as an intravenous push or bolus. It should not be infused concomitantly with other agents.
Warning & Precautions
Documentation & Availability
Sourcing & Delivery
FAQ
If you have any questions or need any help, contact our Patient Support Team. We will get in touch with you within 24 hours from Monday to Friday between 9:00 and 10:00 CET.
All Trademarks and Brands that appear on the website belong to their respective owners and indianpharmanetwork does not lay any claim on them we only provide Information.