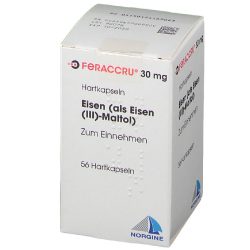 Medicine Name: Feraccru
Generic Name: Ferric Maltol
Dosage Form & Strength: Capsules: 30 mg
Manufactured By: Shield Therapeutics plc
Medical uses
Warning & Precautions
Documentation & Availability
Sourcing & Delivery
FAQ
Medical uses
Feraccru contains the active pharmaceutical ingredient ferric maltol. Feraccru by Shield Therapeutics plc is an iron-containing medicine used for the treatment of iron deficiency (lack of iron) in adults. 
Recommended Dosage: Feraccru is available in capsules (30 mg). The recommended dose is one capsule of Feraccru 30 mg taken orally twice daily, morning and evening, on an empty stomach. The capsules of Feraccru need to be taken whole on an empty stomach (with half a glass of water), as the absorption of iron is scaled down when this medicine is taken with food.
The length of treatment will depend on the severity of the lack of iron, but typically at least 12 weeks of treatment is needed. Treatment with this medicine needs to be continued as long as necessary in order to replenish the body's iron stores as per blood tests.  
Warning & Precautions
Documentation & Availability
Sourcing & Delivery
FAQ
If you have any questions or need any help, contact our Patient Support Team. We will get in touch with you within 24 hours from Monday to Friday between 9:00 and 10:00 CET.
All Trademarks and Brands that appear on the website belong to their respective owners and indianpharmanetwork does not lay any claim on them we only provide Information.