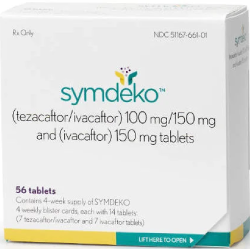 Symdeko (Tezacaftor/Ivacaftor & Ivacaftor)
Medicine Name: Symdeko
Generic Name: Tezacaftor/Ivacaftor and Ivacaftor
Dosage Form & Strength: 100 mg/150 mg and 150 mg Tablets; 50 mg/75 mg and 75 mg Tablets
Manufactured By: Vertex Pharmaceuticals Incorporated
Medical uses
Warning & Precautions
Documentation & Availability
Sourcing & Delivery
FAQ
Medical uses
Symdeko is a fixed dose combination (FDC) of tezacaftor and ivacaftor, used to treat patients with cystic fibrosis (CF) aged 12 years and older who have a couple of copies of the F508del mutation, or who have at least one mutation in the cystic fibrosis transmembrane conductance regulator (CFTR) gene that is responsive to Symdeko (tezacaftor/ivacaftor). 
If the patient's genotype is not known, a CF mutation test should be considered in order to detect the existence of a CFTR mutation followed by verification with bi-directional sequencing when required by the mutation test instructions for use.
Recommended Dosage: The recommended dosage for Adults, Adolescents, and Children Aged 12 Years and Older is one tablet (tezacaftor 100 mg/ivacaftor 150 mg) taken in the morning and one tablet (ivacaftor 150 mg) taken in the evening, around 12 hours apart. Medicine Symdeko is for oral use. Patients should completely swallow the tablets. Take with fat-containing food, such as foods or snacks that contain fat and those prepared with oils or butter or those containing cheeses, nuts, eggs, whole milk, or meats. 
In case 6 hours or less have passed since the missed or skipped morning or evening dose, the patient should take the missed/skipped dose as promptly as possible and continue on the standard schedule.
In case more than 6 hours have passed since the missed or skipped morning or evening dose, the patient should not take the missed/skipped dose. Take the very next scheduled dose of Symdeko at around the usual time. It is not advisable to take more than a single dose at the same time.
Warning & Precautions
Documentation & Availability
Sourcing & Delivery
FAQ
If you have any questions or need any help, contact our Patient Support Team. We will get in touch with you within 24 hours from Monday to Friday between 9:00 and 10:00 CET.
All Trademarks and Brands that appear on the website belong to their respective owners and indianpharmanetwork does not lay any claim on them we only provide Information.