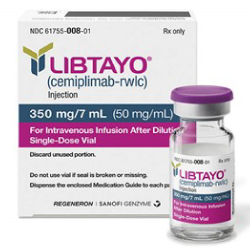 Libtayo (Cemiplimab-rwlc)
Medicine Name: Libtayo
Generic Name: Cemiplimab-rwlc
Dosage Form & Strength: Injection: 350 mg/7 mL (50 mg/mL) solution in a single-dose vial
Manufactured By: Sanofi
Medical uses
Warning & Precautions
Documentation & Availability
Sourcing & Delivery
FAQ
Medical uses
Libtayo is a programmed death receptor-1 (PD-1) blocking antibody used for: 
Cutaneous Squamous Cell Carcinoma (CSCC): to treat patients with metastatic cutaneous squamous cell carcinoma (mCSCC) or locally advanced CSCC (laCSCC) who are not candidates for curative surgery or curative radiation. 
Basal Cell Carcinoma (BCC): to treat patients with locally advanced BCC (laBCC) and metastatic BCC (mBCC) previously treated with a hedgehog pathway inhibitor or for whom a hedgehog pathway inhibitor is not appropriate. 
Non-Small Cell Lung Cancer (NSCLC): to treat patients (as a first-line treatment) with NSCLC whose tumors have high PD-L1 expression, with no EGFR, ALK or ROS1 aberrations, and is locally advanced where patients are not eligible for surgical resection or definitive chemoradiation.
Recommended Dosage: The recommended dosage of Libtayo (Cemiplimab-rwlc) is 350 mg administered as an intravenous infusion over 30 minutes every 3 weeks until the disease is progressive or any kind of unacceptable toxicity occurs.
Warning & Precautions
Documentation & Availability
Sourcing & Delivery
FAQ
If you have any questions or need any help, contact our Patient Support Team. We will get in touch with you within 24 hours from Monday to Friday between 9:00 and 10:00 CET.
All Trademarks and Brands that appear on the website belong to their respective owners and indianpharmanetwork does not lay any claim on them we only provide Information.