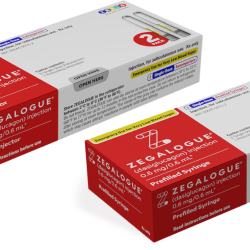 Medicine Name: Zegalogue
Generic Name: Dasiglucagon
Dosage Form & Strength: Injection: 0.6 mg/0.6 mL single-dose autoinjector and single-dose prefilled syringe 
Manufactured By: Zealand Pharma A/S
Medical uses
Warning & Precautions
Documentation & Availability
Sourcing & Delivery
FAQ
Medical uses
Zegalogue is an antihypoglycemic agent used for the treatment of very low blood sugar which is also known as severe hypoglycemia in pediatric and adult patients with diabetes aged six years and beyond.
Recommended Dosage: Zegalogue autoinjector and prefilled syringe are for subcutaneous use only. The proposed dose regimen for patients aged six years and older is 0.6 mg given by subcutaneous injection into the thigh, outer upper arm, buttocks, or lower abdomen.
In case there has been no reaction following 15 minutes, a surplus 0.6 mg dose from a new device may be given.
Warning & Precautions
Documentation & Availability
Sourcing & Delivery
FAQ
If you have any questions or need any help, contact our Patient Support Team. We will get in touch with you within 24 hours from Monday to Friday between 9:00 and 10:00 CET.
All Trademarks and Brands that appear on the website belong to their respective owners and indianpharmanetwork does not lay any claim on them we only provide Information.