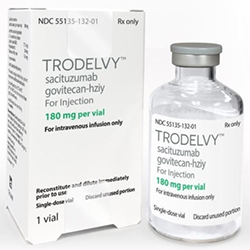 Trodelvy (Sacituzumab govitecan-hziy)
Medicine Name: Trodelvy
Generic Name: Sacituzumab Govitecan-hziy
Dosage Form & Strength: For injection: 200 mg , 180 mg lyophilized powder in a single-dose vial
Manufactured By: Gilead Sciences, Inc.
Medical uses
Warning & Precautions
Documentation & Availability
Sourcing & Delivery
FAQ
Medical uses
Trodelvy is a Trop-2-directed antibody and topoisomerase inhibitor conjugate used to treat adult patients with:
metastatic triple-negative breast cancer (mTNBC) who have received at least 2 prior therapies for metastatic disease.
locally advanced/metastatic urothelial cancer (mUC) who have previously treated with a platinum-containing chemotherapy and either programmed death receptor-1 (PD-1) or programmed death-ligand 1 (PD-L1) inhibitor.
The recommended dose is 10 mg/kg weekly on Days 1 and 8 of each 21-day cycle, or until disease progression or unacceptable toxicity occurs. One should avoid substituting or combining Trodelvy with other irinotecan-containing medications. Administer only as an intravenous infusion, not as a bolus. Pre-infusion medicine and close monitoring are recommended, as well as necessary treatment changes to manage side effects.
Warning & Precautions
Documentation & Availability
Sourcing & Delivery
FAQ
If you have any questions or need any help, contact our Patient Support Team. We will get in touch with you within 24 hours from Monday to Friday between 9:00 and 10:00 CET.
All Trademarks and Brands that appear on the website belong to their respective owners and indianpharmanetwork does not lay any claim on them we only provide Information.