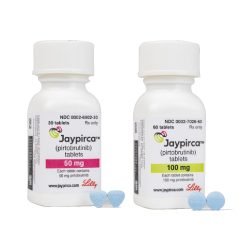 Medicine Name: Jaypirca Tablets
Generic Name: Pirtobrutinib
Dosage form and Strengths: Tablets: 50 mg, 100 mg
Manufactured by: Eli Lilly and Company
Medical uses
Warning & Precautions
Documentation & Availability
Sourcing & Delivery
FAQ
Medical uses
Indications and Usage
Jaypirca is a kinase inhibitor indicated for the treatment of adult patients with relapsed or refractory mantle cell lymphoma (MCL) after at least two lines of systemic therapy, including a BTK inhibitor. This indication is approved under accelerated approval based on response rate. Continued approval for this indication may be contingent upon verification and description of clinical benefit in a confirmatory trial.
Dosage
Recommended Dosage: Take 200 mg orally once daily. Swallow the tablet whole with water, with or without food. Do not cut, crush, or chew the tablets.
Managing Toxicity: Toxicity can be managed through treatment interruption, dosage reduction, or discontinuation as needed.
Patients with Severe Renal Impairment: Reduce the dose in patients with severe renal impairment.
Contraindications: None.
Warning & Precautions
Documentation & Availability
Sourcing & Delivery
FAQ
If you have any questions or need any help, contact our Patient Support Team. We will get in touch with you within 24 hours from Monday to Friday between 9:00 and 10:00 CET.
All Trademarks and Brands that appear on the website belong to their respective owners and indianpharmanetwork does not lay any claim on them we only provide Information.