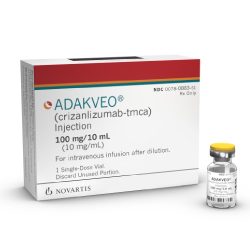 Adakveo (Crizanlizumab-tmca)
Medicine Name: Adakveo
Generic Name: Crizanlizumab-tmca
Dosage Form & Strength: Injection: 100 mg/10 mL solution in a single-dose vial
Manufactured By: Novartis
Medical uses
Warning & Precautions
Documentation & Availability
Sourcing & Delivery
FAQ
Medical uses
Adakveo is a selectin blocker used in adults and pediatric patients aged 16 years and older who have sickle cell disease (SCD) to help scale down how often painful crises happen.
Recommended Dosage: The recommended dosage of Adakveo injection is 5 mg per kg administered by intravenous (IV) infusion over a time span of 30 minutes at Week 0th, week 2nd, and every 4th week thereafter.
In case a dose is skipped or missed, administer this medication as quickly as possible. If it is administered within 14 days after the skipped/missed dose, continue dosing as per the patient's standard schedule. In case this medication is administered beyond 14 days after the skipped or missed dose, continue dosing every 28 days (4 weeks) thereafter. Adakveo may be given either with or without hydroxyurea.
Warning & Precautions
Documentation & Availability
Sourcing & Delivery
FAQ
If you have any questions or need any help, contact our Patient Support Team. We will get in touch with you within 24 hours from Monday to Friday between 9:00 and 10:00 CET.
All Trademarks and Brands that appear on the website belong to their respective owners and indianpharmanetwork does not lay any claim on them we only provide Information.