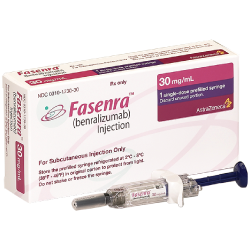 Medicine Name: Fasenra
Generic Name: Benralizumab
Dosage Form & Strength: Injection: 30 mg/mL Solution in a Single-dose Prefilled Syringe
Manufactured By: AstraZeneca
Medical Uses
Warning & Precautions
Documentation & Availability
Sourcing & Delivery
FAQs
Medical Uses
Fasenra is an interleukin-5 receptor alpha-directed cytolytic monoclonal antibody (IgG1, kappa) used for the add-on maintenance treatment of patients with severe asthma aged 12 years and older, and with an eosinophilic phenotype.
Limitations of Use: Fasenra is not for treatment of other eosinophilic conditions. This medicine is not for relief of acute bronchospasm or status asthmaticus.
Recommended Dosage: Fasenra injection is for subcutaneous use only. The recommended dose is 30 mg administered once every four (4) weeks for the initial 3 doses, and then once every eight (8) weeks thereafter by subcutaneous injection into the upper arm, thigh, or abdomen.
The injection should be administered by a health specialist. In line with clinical practice, monitoring of patients after the use of biologic agents is recommended.
Before administering, warm Fasenra by leaving the carton at room temperature for about 30 minutes. Administer this medicinal product within 24 hours or discard into a sharps container.
Warning & Precautions
Documentation & Availability
Sourcing & Delivery
FAQs
If you have any questions or need any help, contact our Patient Support Team. We will get in touch with you within 24 hours from Monday to Friday between 9:00 and 10:00 CET.
All Trademarks and Brands that appear on the website belong to their respective owners and indianpharmanetwork does not lay any claim on them we only provide Information.