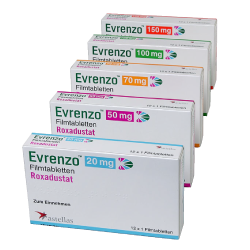 Medicine Name: Evrenzo
Generic Name: Roxadustat
Dosage Form & Strength: Tablets: 20 mg, 50 mg, 70 mg, 100 mg, and 150 mg 
Manufactured By: FibroGen, Inc.
Medical uses
Warning & Precautions
Documentation & Availability
Sourcing & Delivery
FAQ
Medical uses
Evrenzo is an anti-anemia medication used for the treatment of adults with symptomatic anaemia associated with chronic kidney disease (CKD).
Recommended Dosage:
Three times weekly dosing schedule: Evrenzo tablets supplied in a blister pack containing medicine for 4 weeks (12 tablets), split into four rows. Each row typically contains 1 week of medication (three tablets). Make sure to take tablets from the same row each week. The dose may range from 20 mg three (3) times weekly up to a maximum of 400 mg three (3) times weekly.
Different dosing frequencies: In exceptional cases (on behalf of haemoglobin levels), the doctor may decide to scale down the dose of Evrenzo to 20 mg two (2) times or one (1) time weekly. In this scenario, the doctor will elaborate on which days of the week you need to take your dose.
More than one tablet required to make up a dose: In maximum cases patients will have one blister package per month. In case the dose requires excess than one blister package, patients will need to take a tablet from each blister per dosing day. A healthcare provider will elaborate on when and how many tablets to take.
Patients will be monitored for haemoglobin levels. Treatment with Evrenzo 20 mg/50 mg/70 mg/100 mg, or 150 mg may temporarily be stopped if the haemoglobin level becomes excessively high. Wait for the doctor's consent prior to restarting the treatment.
Warning & Precautions
Documentation & Availability
Sourcing & Delivery
FAQ
If you have any questions or need any help, contact our Patient Support Team. We will get in touch with you within 24 hours from Monday to Friday between 9:00 and 10:00 CET.
All Trademarks and Brands that appear on the website belong to their respective owners and indianpharmanetwork does not lay any claim on them we only provide Information.