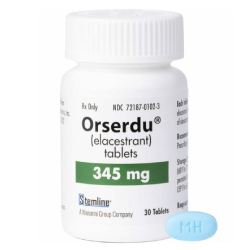 Medicine Name: Orserdu
Generic Name: Elacestrant
Dosage Form & Strength: Tablets: 345 mg and 86 mg
Manufactured By: Stemline Therapeutics, Inc.
Medical uses
Warning & Precautions
Documentation & Availability
Sourcing & Delivery
FAQ
Medical uses
Orserdu (elacestrant tablets) is an estrogen receptor antagonist used for the treatment of women who have gone through menopause and adult men with ER+, HER2-, ESR1-mutated advanced breast cancer or breast cancer that has progressed to other organs of the body (metastatic), and whose disease has progressed after one endocrine therapy.
Recommended Dosage: The recommended dosage of Orserdu tablets is 345 mg taken by mouth (orally) with food once daily until disease progression or in occurrence of unacceptable toxicity. Take Orserdu at about the common time each day. Take with meals to reduce vomiting and nausea. Swallow tablet(s) whole. Do not crush, chew, or split before swallowing the tablets. Avoid taking any broken, cracked, or damaged tablet.
If a dose of Orserdu is missed for beyond six hours or vomiting occurs, skip the particular dose and take the very next dose the following day at its regularly scheduled time.
Warning & Precautions
Documentation & Availability
Sourcing & Delivery
FAQ
If you have any questions or need any help, contact our Patient Support Team. We will get in touch with you within 24 hours from Monday to Friday between 9:00 and 10:00 CET.
All Trademarks and Brands that appear on the website belong to their respective owners and indianpharmanetwork does not lay any claim on them we only provide Information.