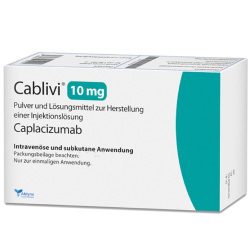 Cablivi(Caplacizumab-yhdp)
Medicine Name: Cablivi
Generic Name: Caplacizumab-yhdp
Dosage Form & Strength: For injection: 11 mg as a lyophilized powder in a single-dose vial.
Manufactured By: Ablynx
Medical uses
Warning & Precautions
Documentation & Availability
Sourcing & Delivery
FAQ
Medical uses
Cablivi is a vWF-directed antibody fragment used to treat adult individuals with acquired thrombotic thrombocytopenic purpura (aTTP), in conjunction with immunosuppressive therapy and plasma exchange.
Recommended Dosage: Cablivi injection should be given upon beginning of plasma exchange therapy. The recommended dosage of Cablivi injection is as follows:
First day of therapy: Cablivi 11 mg given via bolus IV injection at least 15 minutes prior to plasma exchange followed by Cablivi 11 mg given via SC injection after plasma exchange on day 1st.

Subsequent days of therapy during daily plasma exchange: Cablivi 11 mg given via SC injection once a day after plasma exchange.

Therapy following plasma exchange period: Cablivi 11 mg administered via SC injection once a day continuing for one month following the final daily plasma exchange. If after the initial therapy course, sign(s) of persistent underlying disease present, therapy may be extended for at least 28 days.

Discontinue Cablivi 11 mg treatment in case the respective patient experiences excess than a couple of recurrences of acquired thrombotic thrombocytopenic purpura, while on therapy with Cablivi.

Warning & Precautions
Documentation & Availability
Sourcing & Delivery
FAQ
If you have any questions or need any help, contact our Patient Support Team. We will get in touch with you within 24 hours from Monday to Friday between 9:00 and 10:00 CET.
All Trademarks and Brands that appear on the website belong to their respective owners and indianpharmanetwork does not lay any claim on them we only provide Information.