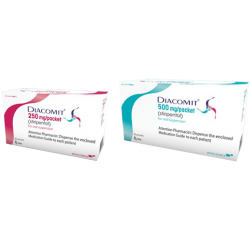 Medicine Name:

Diacomit

Generic Name: Stiripentol
Dosage Form & Strength: Capsule and Sachets: 250 mg/500 mg 
Manufactured By: Biocodex
Medical uses
Warning & Precautions
Documentation & Availability
Sourcing & Delivery
FAQ
Medical uses
Diacomit is an anticonvulsant medicine used for the treatment of seizures associated with Dravet syndrome in patients taking clobazam who are aged 6 months and older and weighing 7 kg or more. There is no clinical data to support the use of this pharmaceutical product as monotherapy in Dravet syndrome.
Recommended Dosage: The recommended dosage is 50 mg/kg/day, administered in 2 or 3 divided doses (i.e., 16.67 mg/kg thrice daily or 25 mg/kg twice daily), depending on the patient's age and body weight. If the exact dosage can not be achieved with available strengths, round to the nearest possible dosage, which is usually within 50-150 mg of the recommended 50 mg/kg/day. A combination of a couple of Diacomit strengths can be used to achieve this dosage. The maximum recommended total dosage is 3,000 mg daily.
Diacomit capsule must be swallowed completely with a glass of water during a meal. Avoid breaking or opening the capsules.
Diacomit Powder for Oral Suspension should be mixed in a glass of water (100mL) and should be taken promptly after mixing during a meal. To be sure there is no drug left in the glass, add a small amount of water (25mL) to the drinking cup and drink all of the mixture. 
Take a missed dose as soon as possible. If it is near time for the very next scheduled dose, take the missed dose. Instead, take the next scheduled dose. Do not double the doses.
Warning & Precautions
Documentation & Availability
Sourcing & Delivery
FAQ
If you have any questions or need any help, contact our Patient Support Team. We will get in touch with you within 24 hours from Monday to Friday between 9:00 and 10:00 CET.
All Trademarks and Brands that appear on the website belong to their respective owners and indianpharmanetwork does not lay any claim on them we only provide Information.