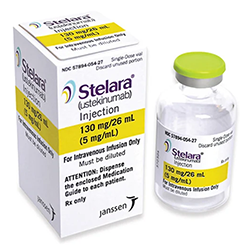 Name: STELARA
Generic Name: Ustekinumab
Strength: 45 mg/0.5 ml and 90 mg/1 ml vial.
Manufactured: JANSSEN Pharmaceutical
Medical Uses
Warning & Precautions
Documentation & Availability
Sourcing & Delivery
FAQ
Medical Uses
Stelara (ustekinumab) is a human interleukin-12 and -23 antagonist drug. Stelara uses in treating:
Moderate to severe plaque psoriasis (Ps) candidates for phototherapy or systemic therapy.
Active psoriatic arthritis (PsA), alone or along with methotrexate. 
Moderately to severely active Crohn's disease (CD) who have failed or were intolerant to treatment with immunomodulators or corticosteroids but never failed a tumour necrosis factor (TNF) blocker or failed or were intolerant to treatment with one or more TNF blockers.
Note: – Stelara (ustekinumab) is an FDA approved drug.
Warning & Precautions
Documentation & Availability
Sourcing & Delivery
FAQ
If you have any questions or need any help, contact our Patient Support Team. We will get in touch with you within 24 hours from Monday to Friday between 9:00 and 10:00 CET.
Email
info@indianpharmanetwork.in
All Trademarks and Brands that appear on the website belong to their respective owners and indianpharmanetwork does not lay any claim on them we only provide Information.