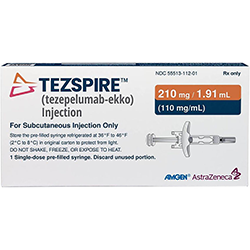 Tezspire (Tezepelumab-ekko)
Medicine Name: Tezspire
Generic Name: Tezepelumab-ekko
Dosage Form & Strength: Injection: 210 mg/1.91 mL (110 mg/mL) solution 
Manufactured By: Amgen and AstraZeneca
Medical uses
Warning & Precautions
Documentation & Availability
Sourcing & Delivery
FAQ
Medical uses
Tezspire is a TSLP (Thymic Stromal Lymphopoietin) blocker, human monoclonal antibody (IgG2λ), used for the add-on maintenance treatment of individuals aged 12 years and up with severe asthma. This medicinal product is not for relief of status asthmaticus or acute bronchospasm.
Recommended Dosage: The recommended dosage of Tezspire injection is 210 mg given subcutaneously once every 28 days (4 weeks). It is given in one of two possible ways: by a doctor with a pre-filled syringe or by self-administration with a pre-filled pen.
If any dose is missed, administer the missed dose as promptly as possible. Thereafter, the respective patient can resume dosing on the usual day of administration. In case the upcoming dose of Tezspire is already pending, then take it as planned.  
Warning & Precautions
Documentation & Availability
Sourcing & Delivery
FAQ
If you have any questions or need any help, contact our Patient Support Team. We will get in touch with you within 24 hours from Monday to Friday between 9:00 and 10:00 CET.
All Trademarks and Brands that appear on the website belong to their respective owners and indianpharmanetwork does not lay any claim on them we only provide Information.