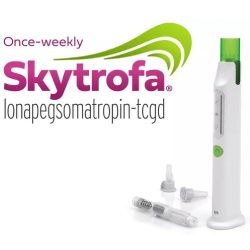 Skytrofa (Lonapegsomatropin-tcgd)
Medicine Name: Skytrofa
Generic Name: Lonapegsomatropin-tcgd
Dosage Form & Strength: For injection: 3mg/3.6mg/4.3mg/5.2mg/6.3mg/7.6mg/9.1mg/11mg/13.3 mg
Manufactured By: Ascendis Pharma
Medical uses
Warning & Precautions
Documentation & Availability
Sourcing & Delivery
FAQ
Medical uses
Skytrofa is formulated as a human growth hormone and widely used for treating pediatric patients aged 12 months and older, weighing at least 11.5kg (26 pounds), and having growth failure because of poor secretion of endogenous growth hormone (GH).
Recommended Dosage: Dosage of Skytrofa must be given subcutaneously into the buttock, abdomen, or thigh with a continuous rotation of the sites of injection. The recommended dose of skytrofa injection is 0.24 mg/kg body weight once weekly.
Administer a missed dose of Skytrofa as quickly as possible and not beyond two days after the missed dose. In order to avoid missed doses, this medicine can be taken two days prior to or two days after the scheduled dosing day. Once-weekly dosing should be resumed for the very next dose on the previously scheduled dosing day.
Warning & Precautions
Documentation & Availability
Sourcing & Delivery
FAQ
If you have any questions or need any help, contact our Patient Support Team. We will get in touch with you within 24 hours from Monday to Friday between 9:00 and 10:00 CET.
All Trademarks and Brands that appear on the website belong to their respective owners and indianpharmanetwork does not lay any claim on them we only provide Information.