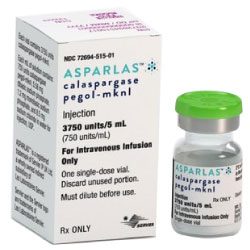 Asparlas (Calaspargase pegol-mknl)
Medicine Name: Asparlas
Generic Name: Calaspargase pegol-mknl
Dosage Form & Strength: Injection: 3,750 units/5 mL (750 units/mL) in a single-dose vial
Manufactured By: Servier Pharmaceuticals LLC
Medical uses
Warning & Precautions
Documentation & Availability
Sourcing & Delivery
FAQ
Medical uses
Asparlas is an asparagine specific enzyme used as a component of a multi-agent chemotherapeutic regimen to treat acute lymphoblastic leukemia (ALL) in pediatric and young adult patients aged 1 month to 21 years.
Recommended Dosage: The recommended dose of asparlas injection is 2,500 units/m2 given intravenously no more frequently than every 3 weeks (21 days).

Premedicate patients with acetaminophen, an H-1 receptor blocker (such as diphenhydramine), and an H-2 receptor blocker (such as famotidine) 30 to 60 minutes before the administration of Calaspargase pegol-mknl to reduce the risk as well as severity of both infusion and hypersensitivity reactions.
Warning & Precautions
Documentation & Availability
Sourcing & Delivery
FAQ