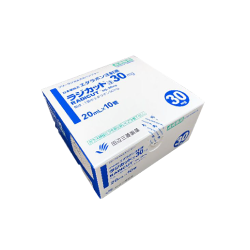 Medicine Name: Radicut
Generic Name: Edaravone
Dosage Form & Strength: Injection: 30 mg/100 mL in single-dose vials
Manufactured By: Mitsubishi Tanabe Pharma Corporation
Medical uses
Warning & Precautions
Documentation & Availability
Sourcing & Delivery
FAQ
Medical uses
Radicut (Edaravone) is a free radical scavenger authorized as a neurovascular protective agent for the:
improvement of neurological symptoms, disorder of activities of daily living, and functional disorder associated with acute ischaemic stroke (AIS).

inhibition on the progression of the functional disorder in patients with amyotrophic lateral sclerosis (ALS) also known as motor neuron disease (MND).
Recommended Dosage:

Acute Ischaemic Stroke (AIS): The usual adult dosage of Radicut is 30 mg diluted with an apt volume of physiological saline, etc., which is administered intravenously over 30 minutes twice daily in the morning and the evening. Administration of Radicut needs to be initiated within 24 hours following the onset of the condition, and the time span of administration should be within 14 days.
Amyotrophic Lateral Sclerosis (ALS): The recommended dosage of Radicut is 60 mg administered as an intravenous (IV) infusion over a 60 minute period once a day as per the following schedule:
An initial treatment cycle with daily dosing for 2 weeks (14 days), followed by a 14 day drug-free period.

Subsequent cycles with daily dosing for ten days out of 14 day periods, followed by two week (14 day) drug-free periods.

Each 60 mg dose of Radicut injection needs to be administered as 2 consecutive 30 mg intravenous (IV) infusion bags over a total of 60 minutes (infusion rate around 1 mg/minute [3.33 mL/minute]). Quickly interrupt the infusion upon the initial observation of any signs or symptoms consistent with a hypersensitivity reaction.
Warning & Precautions
Documentation & Availability
Sourcing & Delivery
FAQ
If you have any questions or need any help, contact our Patient Support Team. We will get in touch with you within 24 hours from Monday to Friday between 9:00 and 10:00 CET.
All Trademarks and Brands that appear on the website belong to their respective owners and indianpharmanetwork does not lay any claim on them we only provide Information.