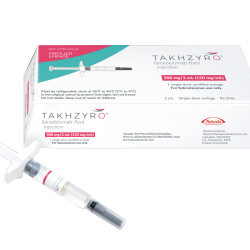 Medicine Name: Takhzyro
Generic Name: Lanadelumab-flyo
Dosage Form & Strength: Injection: 300 mg/2 mL (150 mg/mL) solution in a single-dose vial
Manufactured By: Shire Pharmaceuticals
Medical uses
Warning & Precautions
Documentation & Availability
Sourcing & Delivery
FAQ
Medical uses
Medical Uses: Takhzyro contains the drug lanadelumab-flyo, which is a biologic medication. It is a plasma kallikrein inhibitor (monoclonal antibody) used for prophylaxis to treat or prevent attacks of types I and II hereditary angioedema (HAE) in patients aged 12 years and older. 
It is not known if takhzyro injection is safe and effective in children aged under 12 years.
Recommended Dosage: Takhzyro; a preventive treatment you take just once every two weeks; comes as Injection: 300 mg/2 mL (150 mg/mL) solution, single-dose, ready-to-use, prefilled syringe.
The recommended dose is 300 mg every two weeks for patients starting on Takhzyro. If patients have zero attacks for more than six months, their health specialist may consider prescribing Takhzyro 300 mg every four weeks. It is not advisable to attempt to take this injection without first being trained by a health specialist.
Warning & Precautions
Documentation & Availability
Sourcing & Delivery
FAQ
If you have any questions or need any help, contact our Patient Support Team. We will get in touch with you within 24 hours from Monday to Friday between 9:00 and 10:00 CET.
All Trademarks and Brands that appear on the website belong to their respective owners and indianpharmanetwork does not lay any claim on them we only provide Information.