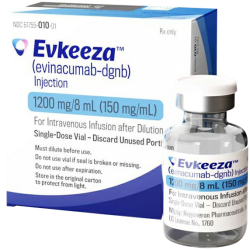 Evkeeza (Evinacumab-dgnb)
Medicine Name: Evkeeza
Generic Name: Evinacumab-dgnb
Dosage Form & Strength: Injection: 345 mg/2.3 mL (150 mg/mL) and 1,200 mg/8 mL (150 mg/mL) solution in single-dose vials
Manufactured By: Regeneron Pharmaceuticals, Inc
Medical uses
Warning & Precautions
Documentation & Availability
Sourcing & Delivery
FAQ
Medical uses
Evkeeza is an injectable ANGPTL3 (angiopoietin-like 3) inhibitor used together with other low-density lipoprotein-cholesterol (LDL-C) lowering medicines to treat adult and pediatric patients aged 12 years and older, with a type of high cholesterol known as homozygous familial hypercholesterolemia (HoFH).
Recommended Dosage: The recommended dose is 15 mg/kg administered by intravenous (IV) infusion once every 4 weeks (monthly). Do not mix other medicines with Evkeeza injection or administer other medicines at the same time via the same infusion line.
The rate of Evkeeza infusion may be slowed, halted, or discontinued if the respective patient develops any signs of side effects, including hypersensitivity reactions or infusion. 
In case a dose is missed/skipped, administer as promptly as possible. Therefore, this medicine should be scheduled monthly from the date of the final dose.
Warning & Precautions
Documentation & Availability
Sourcing & Delivery
FAQ
If you have any questions or need any help, contact our Patient Support Team. We will get in touch with you within 24 hours from Monday to Friday between 9:00 and 10:00 CET.
All Trademarks and Brands that appear on the website belong to their respective owners and indianpharmanetwork does not lay any claim on them we only provide Information.