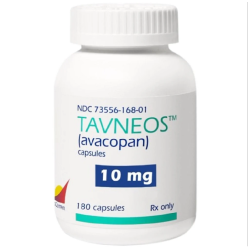 Medicine Name: Tavneos
Generic Name: Avacopan
Dosage Form & Strength: Capsules: 10 mg
Manufactured By: ChemoCentryx, Inc 
Medical uses
Warning & Precautions
Documentation & Availability
Sourcing & Delivery
FAQ
Medical uses
Medical Uses: Tavneos is a complement 5a receptor (C5aR) antagonist used in conjunction with standard therapy including glucocorticoids, as an adjunctive treatment of adult individuals with severe active anti-neutrophil cytoplasmic autoantibody (ANCA)-associated vasculitis. This medicinal product does not eliminate glucocorticoid use.
Recommended Dosage: The recommended dosage of the Tavneos capsule is 30 mg (three capsules of 10 mg) twice a day, with meal. Do not crush, chew, or open. If any particular dose is missed or skipped, the patient should wait until the usual scheduled time to take the very next regular dose. It is not advisable to take a couple of dosages simultaneously.
Warning & Precautions
Documentation & Availability
Sourcing & Delivery
FAQ
If you have any questions or need any help, contact our Patient Support Team. We will get in touch with you within 24 hours from Monday to Friday between 9:00 and 10:00 CET.
All Trademarks and Brands that appear on the website belong to their respective owners and indianpharmanetwork does not lay any claim on them we only provide Information.