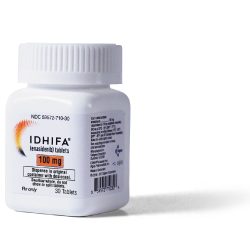 Medicine Name: Idhifa
Generic Name: Enasidenib
Dosage Form & Strength: Tablets: 50 mg or 100 mg
Manufactured By: Celgene Corporation
Medical uses
Warning & Precautions
Documentation & Availability
Sourcing & Delivery
FAQ
Medical uses
Idhifa is an isocitrate dehydrogenase-2 inhibitor used for the treatment of adult patients with relapsed or refractory acute myeloid leukemia (AML) with an isocitrate dehydrogenase-2 (IDH2) mutation.
Recommended Dosage: Select patients for the treatment of acute myeloid leukemia (AML) with Idhifa based on the presence of IDH2 mutations in the blood or bone marrow.

The recommended starting dose is 100 mg taken orally (by mouth) once daily with or without food until the disease is progressive or unacceptable toxicity occurs. For those without disease progression or unacceptable toxicity, treat for a minimum of six months to enable time for clinical response.
It is not advisable to split or crush the tablets. Administer tablets of Idhifa 100 mg by mouth persistently every day.
If a dose is vomited, missed, or not taken at the usual time, administer the dose as quickly as possible on the same day, and return to the normal schedule the following day.
Warning & Precautions
Documentation & Availability
Sourcing & Delivery
FAQ
If you have any questions or need any help, contact our Patient Support Team. We will get in touch with you within 24 hours from Monday to Friday between 9:00 and 10:00 CET.
All Trademarks and Brands that appear on the website belong to their respective owners and indianpharmanetwork does not lay any claim on them we only provide Information.