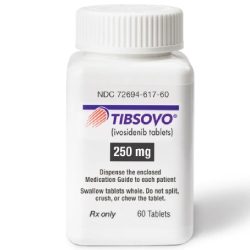 M

e

dicine Name

: Tibsovo
Generic Name: Ivosidenib
Dosage Form & Strength: Tablets: 250 mg
Manufactured By: Servier Pharmaceuticals
Medical uses
Warning & Precautions
Documentation & Availability
Sourcing & Delivery
FAQ
Medical uses
Ivosidenib, commonly known as tibsovo, is an FDA-approved oral medication used to treat newly diagnosed AML in people 75 years of age and older who are ineligible for intensive chemotherapy. The use of this drug is also permitted in people with relapsed or resistant AML who have the IDH1 mutation, a particular genetic flaw found in 6–10% of cases of AML. Adult patients who have already received treatment for locally progressed or metastatic cholangiocarcinoma are given tibsovo.
Mechanism of Action:
Ivosidenib, a small molecule inhibitor, targets mutant IDH1 enzyme in
AML patients with specific mutations.
Effective outcomes are linked to reduced 2-HG levels and remissions. In vitro and in vivo studies confirm lowered 2-HG levels and increased myeloid cells. Cholangiocarcinoma model also sees reduced 2-HG levels.
Side Effects:
Tibsovo may result in side effects, just like other medicines. Nausea, diarrhoea, exhaustion, and joint discomfort are examples of frequent side effects. Additionally, patients may develop differentiation syndrome, a potentially serious condition that needs prompt medical treatment. Any new or deteriorating symptoms must be immediately discussed with your healthcare professional.
Uses:
Tibsovo 250 mg is an important step forward in the treatment of AML by providing patients with the IDH1 mutation with a targeted therapy alternative.
Tibsovo offers an alternative course of treatment for AML patients with recently diagnosed disease who are not suitable for intense chemotherapy. Tibsovo offers hope in patients with relapsed or refractory AML when other treatments may not have been as successful.

Affected individuals who have already undergone therapy for locally advanced or metastatic cholangiocarcinoma
Warning & Precautions
Documentation & Availability
Sourcing & Delivery
FAQ
If you have any questions or need any help, contact our Patient Support Team. We will get in touch with you within 24 hours from Monday to Friday between 9:00 and 10:00 CET.
All Trademarks and Brands that appear on the website belong to their respective owners and indianpharmanetwork does not lay any claim on them we only provide Information.