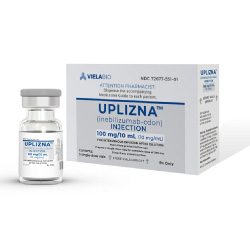 Uplizna (Inebilizumab-cdon)
Medicine Name: Uplizna
Generic Name: Inebilizumab-cdon
Dosage Form & Strength: Injection: 100 mg/10 mL (10 mg/mL) solution in a single-dose vial 
Manufactured By: Horizon Therapeutics
Medical uses
Warning & Precautions
Documentation & Availability
Sourcing & Delivery
FAQ
Medical uses
Uplizna is a CD19-directed cytolytic antibody used to treat neuromyelitis optica spectrum disorder (NMOSD) in adult individuals who are positive for AQP4 antibodies.
Recommended Dosage: Hepatitis B virus (HBV), Quantitative serum immunoglobulins, and Tuberculosis (TB) screening is recommended prior to the first dose of Uplizna injection. Before every infusion, specify in case there is an active infection, and premedicated patients with a corticosteroid, an antipyretic, and an antihistamine.
Uplizna needs to be diluted in 250 mL of 0.9 percent Sodium Chloride Injection, before administration. It must be administered as an intravenous (IV) infusion titrated to completion, about 90 minutes. The recommended dose is:
Initial dose: 300 mg intravenous (IV) infusion followed 14 days later by a 2nd 300 mg intravenous (IV) infusion.
Subsequent doses (starting six months from the first infusion): single 300 mg intravenous (IV) infusion every six months.
Monitor patients precisely throughout the infusion and for at least 60 minutes after completion of the infusion.
Warning & Precautions
Documentation & Availability
Sourcing & Delivery
FAQ
If you have any questions or need any help, contact our Patient Support Team. We will get in touch with you within 24 hours from Monday to Friday between 9:00 and 10:00 CET.
All Trademarks and Brands that appear on the website belong to their respective owners and indianpharmanetwork does not lay any claim on them we only provide Information.