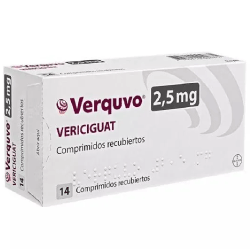 Medicine Name: Verquvo
Generic Name: Vericiguat
Dosage Form & Strength: Tablets: 2.5 mg, 5 mg and 10 mg
Manufactured By: Merck
Medical uses
Warning & Precautions
Documentation & Availability
Sourcing & Delivery
FAQ
Medical uses
Verquvo is a soluble guanylate cyclase (sGC) stimulator, used in adult individuals who are having signs or symptoms of long-lasting heart failure, who have had a recent hospitalization or the need to receive IV (intravenous) medicines and have an ejection fraction (amount of blood pumped with each heartbeat) of below 45 percent to scale down the probability of dying and to scale down the need of hospital stay.
Recommended Dosage: The recommended starting dose is 2.5 mg (one Verquvo tablet) once daily with food. Double the dose approximately every two weeks to achieve the target maintenance dose of 10mg once daily, as tolerated by the patients.
Swallow tablets whole but if one can not swallow the tablet whole, they may crush tablets and mix with water just prior to taking the dose.
In case of missed/skipped dose, take the missed/skipped dose as soon as possible on the same day of the missed/skipped dose. Never take 2 doses on the same day to make up for a missed/skipped dose
Warning & Precautions
Documentation & Availability
Sourcing & Delivery
FAQ
If you have any questions or need any help, contact our Patient Support Team. We will get in touch with you within 24 hours from Monday to Friday between 9:00 and 10:00 CET.
All Trademarks and Brands that appear on the website belong to their respective owners and indianpharmanetwork does not lay any claim on them we only provide Information.