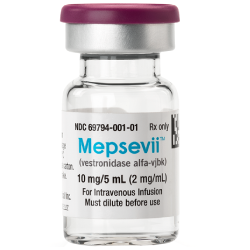 Mepsevii (Vestronidase alfa-vjbk)
Medicine Name:

Mepsevii

Generic Name: Vestronidase alfa-vjbk
Dosage Form & Strength: Injection: 10 mg/5 mL (2 mg/mL) in a single-dose vial 
Manufactured By: Ultragenyx Pharmaceutical Inc. 
Medical uses
Warning & Precautions
Documentation & Availability
Sourcing & Delivery
FAQ
Medical uses
Mepsevii is a recombinant human lysosomal beta glucuronidase used to treat pediatric and adult patients with an inherited metabolic condition called mucopolysaccharidosis type VII (MPS VII), also known as Sly syndrome.
Limitations of Use: The effect of medication Mepsevii on the central nervous system manifestations of MPS VII has not been determined.
Recommended Dosage: Mepsevii should be administered under the proper supervision of a health specialist with the capability to manage anaphylaxis. Premedication is required 30-60 minutes just before start of the infusion. 
The recommended dosage of Mepsevii injection is 4 mg per kg (4 mg/kg) administered by intravenous infusion every 14 days (two weeks). 
Administer the infusion over approximately 4 hours. In the first hour of infusion, infuse 2.5% of the total volume. After the first hour, the rate can be increased to infuse the remainder of the volume over 3 hours as tolerated. 
Warning & Precautions
Documentation & Availability
Sourcing & Delivery
FAQ
If you have any questions or need any help, contact our Patient Support Team. We will get in touch with you within 24 hours from Monday to Friday between 9:00 and 10:00 CET.
All Trademarks and Brands that appear on the website belong to their respective owners and indianpharmanetwork does not lay any claim on them we only provide Information.