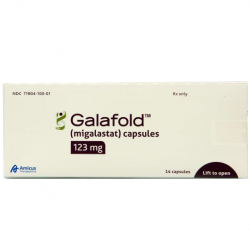 Medicine Name: Galafold
Generic Name: Migalastat
Dosage Form & Strength: Capsules: 123 mg
Manufactured By: Amicus Therapeutics
Medical uses
Warning & Precautions
Documentation & Availability
Sourcing & Delivery
FAQ
Medical uses
Galafold is an alpha-galactosidase A (alpha-Gal A) pharmacological chaperone used for the treatment of adults with Fabry disease who have a certain genetic change (variant) in an enzyme alpha-Gal A that is amenable (responsive) to Galafold. 
Recommended Dosage: The recommended dosage regimen of Galafold capsules is 123 mg orally once every other day at the same time of day on an empty stomach. Avoid consuming food at least 2 hours before and 2 hours after taking capsules to give at least four hours fast. Clear liquids can be consumed during this four-hour time-span. Swallow capsules whole without cutting, crushing, or chewing. Do not take this medicine on 2 successive days.
If a dose of Galafold is missed entirely for the day, take the missed dose only if it is within 12 hours of the normal time that the dose should have been taken. In case more than 12 hours have passed, resume taking your dose at the very next planned dosing day/time, as per the every-other-day dosing schedule. 
Warning & Precautions
Documentation & Availability
Sourcing & Delivery
FAQ
If you have any questions or need any help, contact our Patient Support Team. We will get in touch with you within 24 hours from Monday to Friday between 9:00 and 10:00 CET.
All Trademarks and Brands that appear on the website belong to their respective owners and indianpharmanetwork does not lay any claim on them we only provide Information.