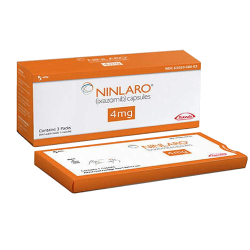 Medicine Name: Ninlaro
Generic Name: Ixazomib
Dosage Form & Strength: Capsules: 4 mg, 3 mg, and 2.3 mg 
Manufactured By: Takeda Pharmaceuticals Inc
Medical uses
Warning & Precautions
Documentation & Availability
Sourcing & Delivery
FAQ
Medical uses
Ninlaro is formulated as a proteasome inhibitor (PI) used in conjunction with medications lenalidomide and dexamethasone to treat individuals with multiple myeloma (MM) who have previously been treated with at least one therapy.
Recommended Dosage: The recommended beginning dosage of Ninlaro capsule is 4 mg administered orally once weekly on Days 1st, 8th, & 15th of a 28-day treatment cycle. The recommended starting dose of the drug lenalidomide is 25 mg administered daily on Days 1st through 21st of a 28-day treatment cycle. The recommended starting dose of dexamethasone is 40 mg administered on Days 1st, 8th, 15th, and 22nd of a 28-day treatment cycle.
Ninlaro needs to be taken at least 60 minutes before or at least 120 minutes after food. Capsules should be swallowed whole with water. Crushing, chewing, or opening the capsule is not recommended. In case of puking after taking a dose of Ninlaro, do not repeat the dose.
Warning & Precautions
Documentation & Availability
Sourcing & Delivery
FAQ
If you have any questions or need any help, contact our Patient Support Team. We will get in touch with you within 24 hours from Monday to Friday between 9:00 and 10:00 CET.
All Trademarks and Brands that appear on the website belong to their respective owners and indianpharmanetwork does not lay any claim on them we only provide Information.