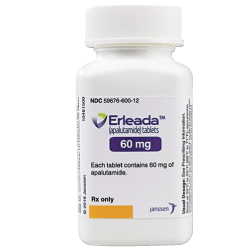 Medicine Name: Erleada
Generic Name: Apalutamide
Dosage Form & Strength: Tablets: 60 mg
Manufactured By: Janssen Pharmaceuticals, Inc.
Medical uses
Warning & Precautions
Documentation & Availability
Sourcing & Delivery
FAQ
Medical uses
Erleada is an androgen receptor inhibitor used for the treatment of patients with
metastatic castration-sensitive prostate cancer (mCSPC).
non-metastatic castration-resistant prostate cancer (nmCRPC).
Recommended Dosage: The recommended dosage of Erleada tablets is 240 mg (4 × 60 mg tablets) administered orally (by mouth) once daily. Take these tablets with or without food. Each tablet of Erleada should be swallowed whole.

Gonadotropin-releasing hormone (GnRH) analog can be received concurrently or patients should have had a bilateral orchiectomy.
In case of a greater than or equal to Grade-3 toxicity or an intolerable adverse reaction, hold dosing with Erleada until signs/symptoms improve to less than or equal to Grade-1 or original grade, then resume at the same dose or a decreased dose (180 mg or 120 mg), if warranted.
In the event of a missed daily dose, patients should take their normal Erleada dose as quickly as possible on the same day with a return to the normal schedule on the following day. Do not take extra pills to make up for the missed or skipped dose.
Warning & Precautions
Documentation & Availability
Sourcing & Delivery
FAQ
If you have any questions or need any help, contact our Patient Support Team. We will get in touch with you within 24 hours from Monday to Friday between 9:00 and 10:00 CET.
All Trademarks and Brands that appear on the website belong to their respective owners and indianpharmanetwork does not lay any claim on them we only provide Information.