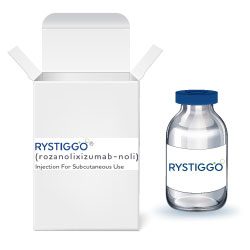 Rystiggo (rozanolixizumab-noli)
Medicine Name: Rystiggo
Generic Name: Rozanolixizumab-noli
Dosage Form & Strength: 280 mg/2 mL (140 mg/mL) in a single-dose vial for injection.
Manufactured By: UCB, Inc.
Medical uses
Warning & Precautions
Documentation & Availability
Sourcing & Delivery
FAQ
Medical uses
Treatment of Generalized Myasthenia Gravis (gMG).
Specifically for adult patients who are anti-acetylcholine receptor (AChR) or anti-muscle-specific tyrosine kinase (MuSK) antibody positive.
Administered as a subcutaneous infusion.
Dosage varies based on the patient's weight.
It should only be used under the guidance of a qualified healthcare professional.
Recommended Dosage: 
Evaluate the need to administer age-appropriate vaccines according to immunization guidelines before initiating a new treatment cycle with Rystiggo.
The recommended dosage is administered as a subcutaneous infusion once weekly for 6 weeks, based on the patient's body weight:
Less than 50 kg: 420 mg in 3 mL
50 kg to less than 100 kg: 560 mg in 4 mL
100 kg and above 840 mg in 6 mL
Administer subsequent treatment cycles based on clinical evaluation; the safety of initiating subsequent cycles sooner than 63 days from the start of the previous treatment cycle has not been established.
Warning & Precautions
Documentation & Availability
Sourcing & Delivery
FAQ
If you have any questions or need any help, contact our Patient Support Team. We will get in touch with you within 24 hours from Monday to Friday between 9:00 and 10:00 CET.
All Trademarks and Brands that appear on the website belong to their respective owners and indianpharmanetwork does not lay any claim on them we only provide Information.