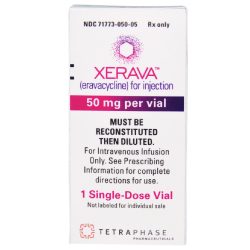 Medicine Name: Xerava
Generic Name: Eravacycline
Dosage Form & Strength: Injection: 50 mg/1mL
Manufactured By: Tetraphase Pharmaceuticals, Inc.
Medical uses
Warning & Precautions
Documentation & Availability
Sourcing & Delivery
FAQ
Medical uses
Xerava is a tetracycline class antibacterial used for the treatment of complicated intra-abdominal infections in patients aged 18 years and older.
To scale down the development of drug-resistant bacteria and sustain the effectiveness of Eravacycline and other antibacterial medicines, Eravacycline needs to be used only to treat/prevent infections that are demonstrated or firmly suspected to be caused by susceptible bacteria. When culture and susceptibility deets are available, they needs to be considered in selecting or modifying antibacterial therapy. In unavailability of such findings, local epidemiology and susceptibility patterns may help contribute to the empiric selection of therapy.

Limitations of Use: This medicinal product is not for those with complicated urinary tract infections (cUTI).

Recommended Dosage: The recommended dose regimen of Xerava injection is 1 mg/kg every 12 hours. Dosage of Xerava is administered intravenously over approximately 60 minutes every 12 hours.

The recommended time-span of treatment with Xerava for cIAI is 4-14 days. The time-span of therapy should be guided by the severity and location of infection and the patient's clinical response.
Dosage Modifications in those with Hepatic Impairment: In those with severe hepatic impairment (Child Pugh C), administer Xerava 1 mg per kg every 12 hours on Day 1'st followed by Xerava 1 mg per kg every 24 hours starting on Day 2'nd for a total duration of 4-14 days. Dosage adjustment is not warranted in those with mild-moderate hepatic impairment (Child Pugh A/B).
Warning & Precautions
Documentation & Availability
Sourcing & Delivery
FAQ
If you have any questions or need any help, contact our Patient Support Team. We will get in touch with you within 24 hours from Monday to Friday between 9:00 and 10:00 CET.
All Trademarks and Brands that appear on the website belong to their respective owners and indianpharmanetwork does not lay any claim on them we only provide Information.