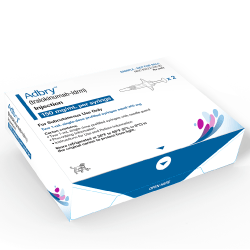 Medicine Name: Adbry
Generic Name: Tralokinumab-ldrm
Dosage Form & Strength: Injection: 150 mg/mL solution in a single-dose prefilled syringe with a needle guard
Manufactured By: LEO Pharma Inc.
Medical uses
Warning & Precautions
Documentation & Availability
Sourcing & Delivery
FAQ
Medical uses
Adbry is an interleukin-13 antagonist used for the treatment of moderate-to-severe atopic dermatitis (eczema) in adult individuals whose disease is not satisfactorily controlled with prescription therapies used on the skin (topical), or who are not recipients of topical therapies. Adbry injection can be considered with or without topical corticosteroids.
Recommended Dosage: Adbry is administered by subcutaneous injection. The recommended dosage is an initial dose of Adbry 600 mg (4 injections of Adbry 150 mg), followed by 300 mg (2 injections of Adbry 150 mg) given every other week. After 16 weeks of therapy, for patients with a body weight less than 100 kg who get clear or almost clear skin, a dosage of Adbry 300 mg injection every 4 weeks (28 days) may be considered.
If a dose of Adbry is missed, administer the missed dose as quickly as possible. Thereafter, resume dosing with Adbry at the standard scheduled time.
Warning & Precautions
Documentation & Availability
Sourcing & Delivery
FAQ
If you have any questions or need any help, contact our Patient Support Team. We will get in touch with you within 24 hours from Monday to Friday between 9:00 and 10:00 CET.
All Trademarks and Brands that appear on the website belong to their respective owners and indianpharmanetwork does not lay any claim on them we only provide Information.