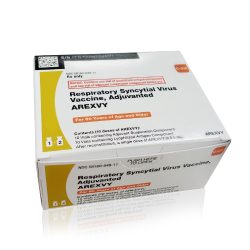 Medicine Name: Arexvy
API: Respiratory Syncytial Virus Vaccine, Adjuvanted
Dosage Form & Strength: Suspension for intramuscular injection 
Manufactured By: GlaxoSmithKline Biologicals
Medical uses
Warning & Precautions
Documentation & Availability
Sourcing & Delivery
FAQ
Medical uses
Arexvy (respiratory syncytial virus vaccine, adjuvanted) is a vaccine used for active immunization for the prevention of lower respiratory tract disease (LRTD) caused by respiratory syncytial virus in individuals aged 60 years and older.
Recommended Dosage: The recommended dose of Arexvy is 0.5 mL administered by intramuscular (IM) injection only, preferably in the upper arm or deltoid muscle. The requirement for revaccination with a subsequent dose of Arexvy (IM) intramuscular injection has not been developed. Do not administer it to anyone with a known history of a severe allergic reaction (e.g., anaphylaxis) to any component of Arexvy.
Warning & Precautions
Documentation & Availability
Sourcing & Delivery
FAQ
If you have any questions or need any help, contact our Patient Support Team. We will get in touch with you within 24 hours from Monday to Friday between 9:00 and 10:00 CET.
All Trademarks and Brands that appear on the website belong to their respective owners and indianpharmanetwork does not lay any claim on them we only provide Information.