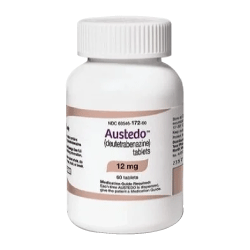 Austedo (Deutetrabenazine)
Medicine Name: Austedo
Generic Name: Deutetrabenazine
Dosage Form & Strength: Tablets: 6 mg, 9 mg, 12 mg
Manufactured By: Teva Pharmaceuticals, Inc.
Medical uses
Warning & Precautions
Documentation & Availability
Sourcing & Delivery
FAQ
Medical uses
Austedo is a vesicular monoamine transporter 2 (VMAT2) inhibitor used for the treatment of:
the involuntary movements (Chorea) related to Huntington's disease

movements in the face, tongue, or other body parts that cannot be controlled (Tardive dyskinesia) in adults.
Recommended Dosage:
The recommended initial dose is 6 mg administered by mouth (orally) once daily with food in patients with Huntington's disease and 12 mg/day (6 mg twice daily) for patients with tardive dyskinesia. Swallow tablets of Austedo whole without chewing, crushing, or breaking.
Dosage of Austedo can be titrated at weekly intervals by 6 mg/day on behalf of reduction of chorea or tardive dyskinesia, and tolerability, up to a maximum recommended daily dosage of 48 mg (24 mg twice daily). Administer total daily dosages of 12 mg or more in a couple of divided doses.
For individuals at risk for QT prolongation, evaluate the QT interval prior to and after titrating the total dosage above 24 mg/day.
Warning & Precautions
Documentation & Availability
Sourcing & Delivery
FAQ
If you have any questions or need any help, contact our Patient Support Team. We will get in touch with you within 24 hours from Monday to Friday between 9:00 and 10:00 CET.
All Trademarks and Brands that appear on the website belong to their respective owners and indianpharmanetwork does not lay any claim on them we only provide Information.