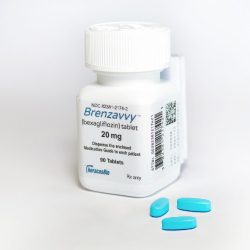 Brenzavvy (bexagliflozin)
Drug Name: Brenzavvy 
Generic Name: Bexagliflozin 
Dosage Forms and Strengths: Tablets: 20mg 
Manufactured by: TheracosBio 
Medical uses
Warning & Precautions
Documentation & Availability
Sourcing & Delivery
FAQ
Medical uses
BRENZAVVY is a medication that falls into the class of sodium-glucose co-transporter 2 (SGLT2) inhibitors. It is recommended as an addition to dietary and exercise measures to enhance the management of blood sugar levels in adults diagnosed with type 2 diabetes. Limitation of Use: This medication is not advisable for patients with type 1 diabetes. Its use in such cases may heighten the risk of a condition called diabetic ketoacidosis. 
Dosage And Administration: 
 The suggested dose is 20 mg once daily, to be taken in the morning, with or without food. It's essential not to crush or chew the tablet. 
 Before starting BRENZAVVY, it is necessary to evaluate the patient's kidney function and make corrections as needed. 
This medication should not be used if the estimated glomerular filtration rate (eGFR) is less than 30 mL/min/1.73 m². 
Warning & Precautions
Documentation & Availability
Sourcing & Delivery
FAQ
If you have any questions or need any help, contact our Patient Support Team. We will get in touch with you within 24 hours from Monday to Friday between 9:00 and 10:00 CET.
All Trademarks and Brands that appear on the website belong to their respective owners and indianpharmanetwork does not lay any claim on them we only provide Information.