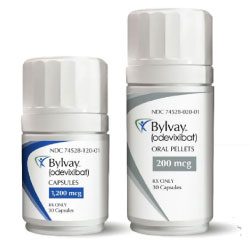 Medicine Name: Bylvay 
Generic Name: Odevixibat
Dosage Form & Strength: Oral Pellets: 200 mcg, 600 mcg & Capsules: 400 mcg, 1200 mcg 
Manufactured By: Albireo Pharma, Inc.
Medical uses
Warning & Precautions
Documentation & Availability
Sourcing & Delivery
FAQ
Medical uses
Bylvay is designated as an ileal bile acid transporter (IBAT) inhibitor and used for treating pruritus in those aged 3 months and older with progressive familial intrahepatic cholestasis (PFIC).
This pharmaceutical product may not be promising in PFIC type 2 patients with ABCB11 variants resulting in a nonfunctional or complete absence of bile salt export pump protein (BSEP-3).  
Recommended Dosage: Bylvay oral pellets are intended for use by those weighing less than 19.5 kg and bylvay capsules are intended for use by those weighing 19.5 kg or above. The recommended dosage is 40 mcg/kg once a day. 
Take capsules in the morning with a meal. Swallow capsule as whole with a glass of water. Alternatively, for patients not able to swallow whole capsules, the Bylvay capsules may be opened, sprinkled, and mixed with a little amount of soft food. 
Mix the whole contents of the shell containing oral pellets (s) into soft food. Do not mix the medication in liquids. Avoid swallowing the shell that contains oral pellets completely. Those who are exclusively on liquid food should not use this medicinal product. 
In case there is no improvement in pruritus after 90 days of treatment, the dosage may be increased in 40 mcg/kg increments up to 120 mcg/kg once a day not to excess than a total daily dose of 6 mg. 
Warning & Precautions
Documentation & Availability
Sourcing & Delivery
FAQ
If you have any questions or need any help, contact our Patient Support Team. We will get in touch with you within 24 hours from Monday to Friday between 9:00 and 10:00 CET.
All Trademarks and Brands that appear on the website belong to their respective owners and indianpharmanetwork does not lay any claim on them we only provide Information.