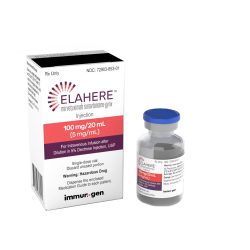 Elahere (Mirvetuximab Soravtansine)
Medicine Name: Elahere
Generic Name: Mirvetuximab Soravtansine
Dosage Form & Strength: single-dose vial, containing 100 mg/20 mL  
Manufactured By: ImmunoGen
Medical uses
Warning & Precautions
Documentation & Availability
Sourcing & Delivery
FAQ
Medical uses
Elahereis indicated as a treatment for adult patients with FRα-positive, platinum-resistant
epithelial ovarian, fallopian tube, or primary peritoneal cancer. These patients should have
received one to three prior systemic treatment regimens.
The selection of patients for this therapy should be based on an FDA-approved test.
Accelerated approval for this indication is based on tumor response rate and durability of
response. Continued approval may be contingent upon verification and description of clinical
benefit in a confirmatory trial.
Recommended Dosage:
The recommended dose of Elahere is 6 mg/kg adjusted ideal body weight, given as an
intravenous infusion every 3 weeks until disease progression or unacceptable toxicity.
Patients should receive premedication with a corticosteroid, antihistamine, and antipyretic.
Additionally, premedication with an antiemetic, ophthalmic topical steroids, and lubricating eye
drops is recommended.
Elahere should be administered as an intravenous infusion after dilution in 5% Dextrose Injection,
USP, as it is not compatible with normal saline.
Warning & Precautions
Documentation & Availability
Sourcing & Delivery
FAQ
If you have any questions or need any help, contact our Patient Support Team. We will get in touch with you within 24 hours from Monday to Friday between 9:00 and 10:00 CET.
All Trademarks and Brands that appear on the website belong to their respective owners and indianpharmanetwork does not lay any claim on them we only provide Information.