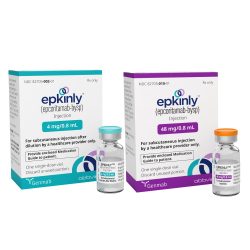 Epkinly (Epcoritamab-bysp)
Medicine Name: Epkinly
Generic Name: Epcoritamab-bysp
Dosage Form & Strength: Injection: 4 mg/0.8 mL and 48 mg/0.8 mL
Manufactured By: Genmab and AbbVie Inc.
Medical uses
Warning & Precautions
Documentation & Availability
Sourcing & Delivery
FAQ
Medical uses
Epkinly is a bispecific CD20-directed CD3 T-cell engager used for the treatment of adults with relapsed or refractory diffuse large B-cell lymphoma (DLBCL), not otherwise specified, including DLBCL arising from indolent lymphoma, and high-grade B-cell lymphoma after a couple of or more lines of systemic therapy.

Note: Epkinly is approved on behalf of patient response data. A study is ongoing to confirm the clinical benefit of this medication. It is not known if this therapeutic medicine is safe and promising in children.
Recommended Dosage: The recommended regimen for Epkinly is subcutaneous (SC) administration in 28-day cycles until disease progression or unacceptable adverse events. Epkinly's recommended dose typically comprises step-up dosing in cycle 1 (0.16 mg on day 1, 0.8 mg on day 8, and 48 mg on days 15 and 22) followed by fixed dosing of 48 mg weekly during cycles 2 & 3, every other week during cycles 4 through 9, and then every 4 weeks on day 1 of subsequent cycles.
Warning & Precautions
Documentation & Availability
Sourcing & Delivery
FAQ
If you have any questions or need any help, contact our Patient Support Team. We will get in touch with you within 24 hours from Monday to Friday between 9:00 and 10:00 CET.
All Trademarks and Brands that appear on the website belong to their respective owners and indianpharmanetwork does not lay any claim on them we only provide Information.