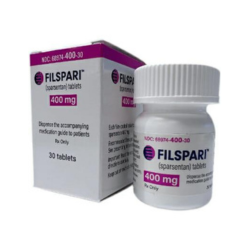 Drug Name: Filspare 
API: Sparsentan
Dosage Forms and Strengths: Tablet form, 200 mg and 400 mg
Manufactured by: Travere Therapeutics
Medical uses
Warning & Precautions
Documentation & Availability
Sourcing & Delivery
FAQ
Medical uses
FILSPARI is an antagonist for endothelin and angiotensin II receptors, indicated for the reduction of proteinuria in adults diagnosed with primary immunoglobulin A nephropathy (IgAN) at risk of rapid disease progression. Typically, this pertains to patients with a urine protein-to-creatinine ratio (UPCR) of ≥1.5 g/g. It's important to note that this indication is granted under accelerated approval, primarily based on the reduction of proteinuria. It has not been conclusively determined whether FILSPARI slows the decline in kidney function in patients with IgAN. Continued approval for this indication may rely on the verification and description of clinical benefits in a confirmatory clinical trial.
Dosage And administration:
Before starting FILSPARI, discontinue the use of renin-angiotensin-aldosterone system (RAAS) inhibitors, endothelin receptor antagonists (ERAs), or aliskiren.

Commence FILSPARI treatment with 200 mg orally once daily. After 14 days, increase the dose to the recommended 400 mg once daily, as tolerated. In cases of resuming treatment after an interruption, consider titration, beginning with 200 mg once daily and increasing to 400 mg once daily after 14 days.

Instruct patients to swallow the tablets whole with water before their morning or evening meal.
Warning & Precautions
Documentation & Availability
Sourcing & Delivery
FAQ
If you have any questions or need any help, contact our Patient Support Team. We will get in touch with you within 24 hours from Monday to Friday between 9:00 and 10:00 CET.
All Trademarks and Brands that appear on the website belong to their respective owners and indianpharmanetwork does not lay any claim on them we only provide Information.