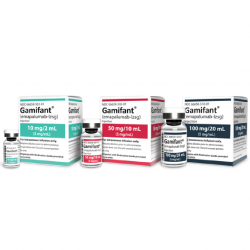 Gamifant (Emapalumab-lzsg)
Medicine Name: Gamifant
Generic Name: Emapalumab-lzsg
Dosage Form & Strength: 10 mg/2 mL (5 mg/mL) & 50 mg/10 mL (5 mg/mL) solution in a single-dose vial
Manufactured By: Novimmune SA
Medical uses
Warning & Precautions
Documentation & Availability
Sourcing & Delivery
FAQ
Medical uses
Gamifant (Emapalumab-lzsg) is an interferon gamma (IFNγ)-blocking antibody used for the treatment of adult and pediatric (newborn and older) patients with primary hemophagocytic lymphohistiocytosis (HLH) with refractory, recurrent, or progressive disease or intolerance with conventional hemophagocytic lymphohistiocytosis therapy.
Recommended Dosage: The recommended starting dose of Gamifant injection is 1 mg/kg given as an intravenous infusion over 1 hour twice per week (every 3 to 4 days). Doses subsequent to the initial dose may be increased depending on clinical and laboratory criteria.
Administer this IFNγ-blocking antibody until HSCT (Hematopoietic Stem Cell Transplantation) is performed or unacceptable toxicity. Discontinue treatment when a patient no longer requires therapy for the treatment of HLH. 
Warning & Precautions
Documentation & Availability
Sourcing & Delivery
FAQ
If you have any questions or need any help, contact our Patient Support Team. We will get in touch with you within 24 hours from Monday to Friday between 9:00 and 10:00 CET.
All Trademarks and Brands that appear on the website belong to their respective owners and indianpharmanetwork does not lay any claim on them we only provide Information.